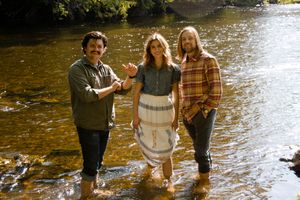 About the Band
"Home is home, it's where we are, it's you and I." These lyrics from the band's single, Where We Are, perfectly sum up the band's homegrown attitude. Whether on the road or at home, the band's commitment to faith, family, and community has created a foundation upon which a fiercely supportive following has grown.
An Americana band from western Michigan, the Cold Leather Seats' sound can be described as, "if the Zac Brown Band recorded an indie-folk album." Composed of frontman and lead singer- Alex Svoboda, bassist- Issac Frisbie, vocalist- Elizabeth Ostoin, and violinist- Bella Worthing, the band has found success through their evocative story telling and genre bending performances.
In 2020, the band joined the label, White Elephant Records, and released their debut single, Roots. Since that time, their success has shown no signs of slowing. In 2022, Cold Leather Seats' music video, Where We Are, was nominated for a Michigan Music Video Award. In 2023, the band was nominated for, "Artist of the Year," at the WYCE Jammies. They have opened for renowned acts such as, Full Cord- winner of the 2022 Telluride Bluegrass Festival; Drew Hale- recently named 'Best New Act in Country Music'; Rachael Davis, Michigan Rattlers, and more.
Ever committed to their values and their craft, the band is working relentlessly to bring authentic song-writing and spectacular performances to life.