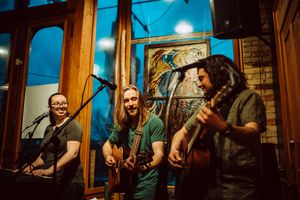 About the Band
About the Band
Cold Leather Seats is a folk-rock band from West-Michigan. Led by singer-songwriter Alex Svoboda, the band is made up of a collection of artists with a deep love for music and performance.
Together, the band has created their own unique, Americana-blend of country, folk, rock, and blues. Drawing inspiration from Americana greats such as Jason Isbell and the Head and the Heart, the band's sound can be described as, "if the Lumineers had a bluegrass streak."
The Cold Leather Seats released their debut single, "Roots," in 2020 and since that time have steadily been building a superb catalog of music. Be sure to keep tabs on this up-and-coming group as they continue to forge their path in the world of music.